InnoGIO Silicone Night Light with Sounds GIOsleeping Bunny GIO-134
Catalogue number:  GIO-134
ean: 5903317816256
Information on the expected delivery date: Right away
For a peaceful baby's sleep...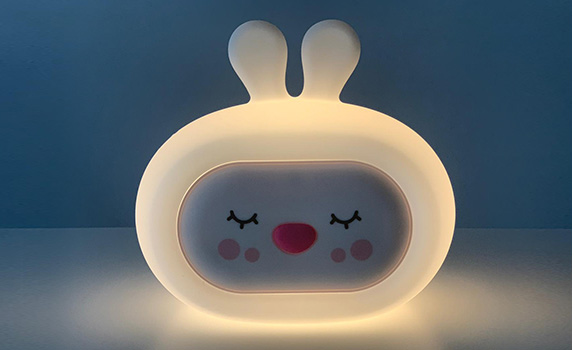 A humming GIOsleepy Bunny lamp with gentle melodies that will help your baby fall asleep peacefully.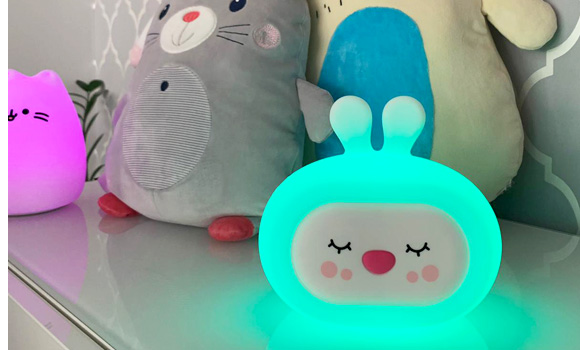 This cute Bunny reacts to the touch of a hand, gradually changing colors and soothing sounds.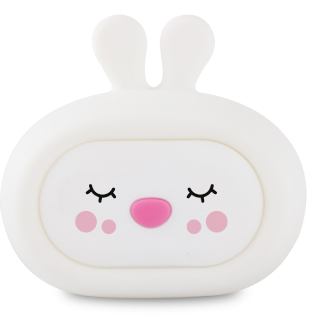 Provide your little one with the perfect atmosphere before going to bed
GIOsleepy Bunny is one of the newest InnoGIO lamp models. This cute bunny combines the soft light of a bedside lamp with soothing melodies and sounds of nature. The lamp lights up in 8 colors, reacting to the color change by touching the hand. Pressing the nose activates melodies, the volume of which can be adjusted on the rear panel of the lamp.

GIOsleepy Bunny has as many as 7 different noises pre-loaded: The hum of a waterfall, The sound of a heartbeat, The sound of the sea, The sound of a river, Lullaby, The sound of water drops in a cave, Sounds of a rainforest.

Thanks to melodies, sounds of nature and a delicate night glow, the bunny creates the perfect atmosphere that slowly introduces the child to calm down and then to sleep.
Safety and fun
The soft, flexible BPA-free silicone from which the lamp was made ensures the safety of use of even the smallest children. The lamp does not heat up. Its delicacy to the touch makes children very happy to hug it. Soft fabric, soothing music and colorful lights help develop the senses of touch, sight and hearing, while relaxing the baby.

The lamp is extremely easy to use. And thanks to the built-in rechargeable battery, it can be conveniently and quickly charged using a USB-C cable (included).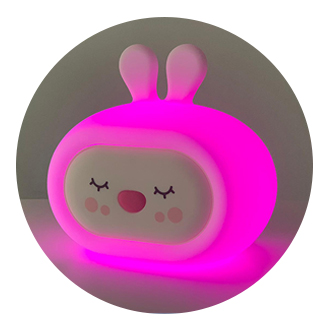 Silicone Night Light with Sounds

GIOsleepy Bunny

Charged via micro USB-C cable (included)

It has a music mode with preloaded melodies

Touch switching for changing the LED color
and changing the light of the lamp

BPA free

A fully charged lamp can work up to 8 hours

It lights up in 8 colors, changes color gradually every 3 seconds.

Meet the whole family of our lamps
Specifications
| | |
| --- | --- |
| Power | 0,8 W |
| Battery capacity | 1200 mAh |
| Accessories | kabel USB-C |
| Material | ABS_ Silikon |
| Product dimensions (L x W x H) | 15,7 x 8,7 x 16,1 cm |